Obstacle courses have gained favour among the general public thanks to the popularity of various television shows. There are numerous competitions in which the participants boldly fight through the many obstacles and sometimes even end up in the water.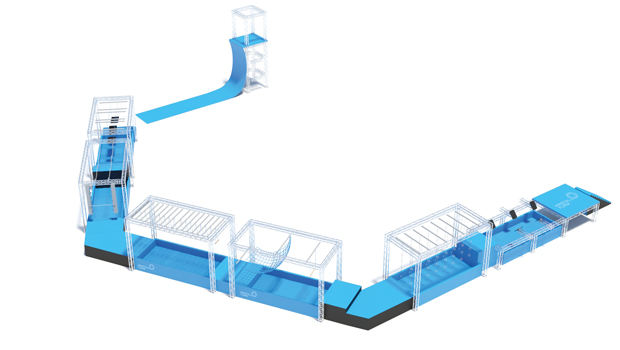 Ninja Course
The ninja course combines running, jumping, swinging, climbing and balancing, thereby offering both training and enjoyment. It can be set up for use by children or athletes depending on the requirements, for example complementing existing fitness facilities with a universal exercise offering. The ninja course is ideal for child amusement halls as well: it really lets children blow off steam. As a mobile system, the ninja course can be used for spectacular events and competitions. The obstacles are easy to exchange so that varied new challenges can always be created. In combination with our fitness course, operators can expand their offer and thus entertain several people at the same time. 
Request your personal quotation    More about our fitness course
Ninja Course for kids
The ninja course for children can serve as a complement to existing indoor play facilities for kids, sports centres or trampoline facilities. The sample plan illustrated above consists of 2 parallel lanes with a total of 5 stations. 
With dimensions of 13.5 x 5 x 3 m, the course is extremely compact. The falling area is covered in thin fall protection mats, while impact protection mats are installed on the framework.